American Wagyu Sirloin Steak
The Top Sirloin is a great option that delivers a leaner, but still high-end steakhouse-style experience on your plate. Even though this is a leaner option, these steaks still offer a high level of tenderness and the same rich American Waygu flavor.
Our North 40 American Waygu steaks are a versatile option for everything from an afternoon grill out to a Christmas dinner. 
Individually Packaged

Averages 13 Ounces
Grain fed for 500 days.

Hormone Growth Promotant (HGP) Free.

Temperature controlled shipping.

This item ships frozen.

Thawing is normal during shipment.
View full details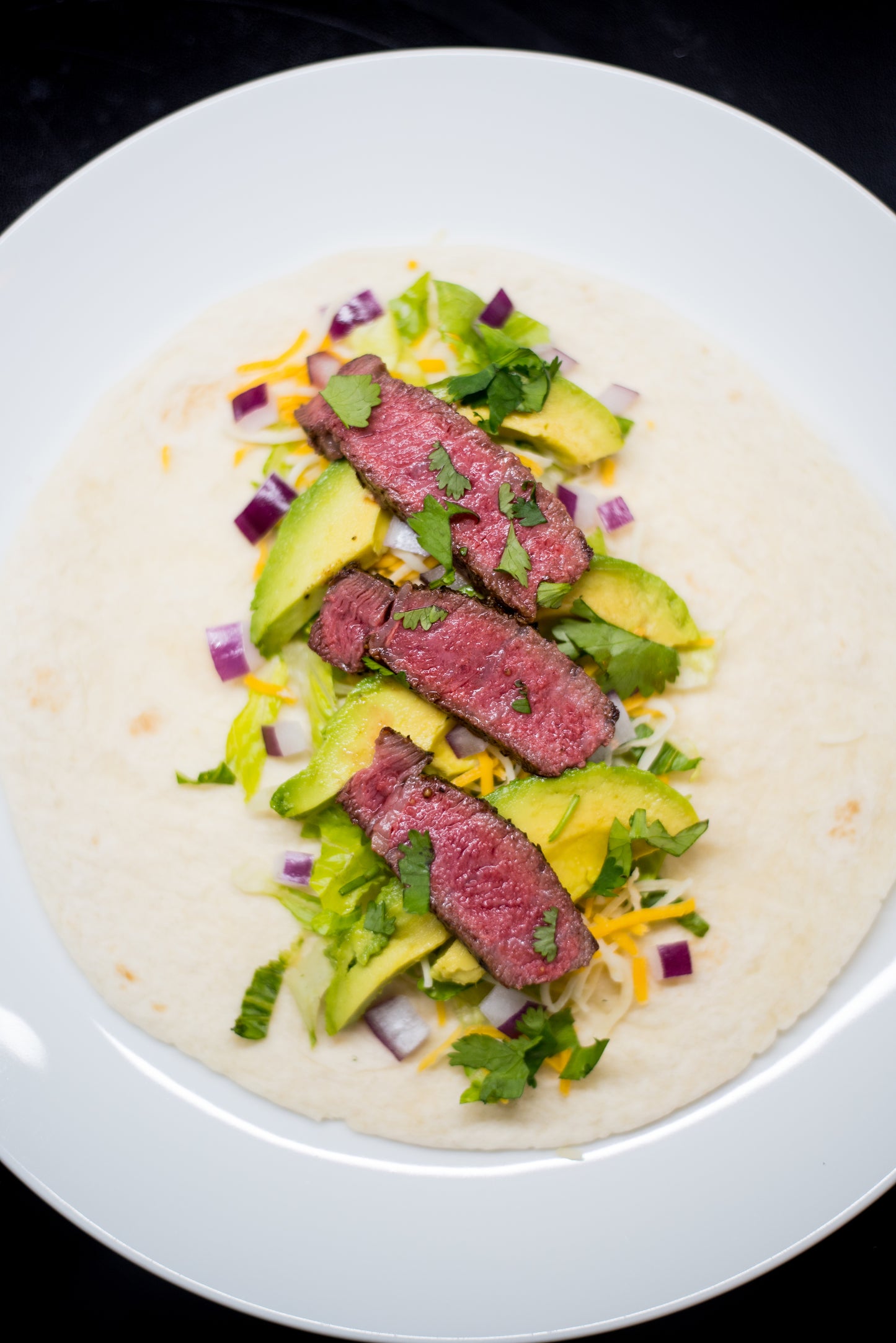 All Natural, 100% Hormone Free, Sustainably Raised.
When it comes to Wagyu beef, it's all about that marbling, partner. Wagyu beef comes from Japan and is known for its high quality and tasty fat. It comes from a specific breed of cattle that's genetically blessed to produce meat with a high degree of marbling. American Wagyu beef, on the other hand, is a cross between Japanese Wagyu cattle and breeds like Angus or Hereford that we have here in the States. It's raised in the U.S. using methods similar to those used in Japan, but with our own American twist. American Wagyu beef typically has a similar level of marbling to Japanese Wagyu, but will have the American flavor profile we know and love.
To cook up a tasty American Wagyu steak, just follow these simple steps. First, preheat your oven to 250 degrees and season that steak with some salt and pepper. Place the steak on a wire rack on a baking sheet, and cook it in the oven for about 30 minutes. You want to cook it until it reaches an internal temperature of 115-120 degrees.

Next, heat up a heavy-duty skillet or grill pan until it's smokin' hot. Put the steak in the skillet and sear it for about 30-60 seconds on each side. You want it to have a nice crust. Once it's seared, remove the steak from the skillet and let it rest for a few minutes before slicing and serving. This method will give you a tender, juicy steak with a crispy, tasty crust. Yeehaw!
Frozen beef will last you about a year as long as it remains frozen. Beef that's been thawed out of its wrapping should be used within a few days. We use nitrogen packaging to keep our goods fresh for up to 30 days. When the freeze-by date rolls around, you best be putting your beef in the freezer. For more information, pay a visit to FoodSafety.gov. It's recommended that you use ground beef within half a year.
Amazing
A friend of mine recommended this website. This is the first thing I bought and The flavor is amazing, very tender and over all just wonderful. I recommend all of North 40 items! The beef is amazing.
I take this cut over ny strip and rib eye. Much more flavorful and just as tender but more juicy. Best value for American Wagyu cuts.
Great marbling and flavor even compared to the real deal A5. Ordered a bunch for a road trip and packed them as they arrived frozen. They travel great and I didn't have to worry about searching for quality meat on the road.