American Wagyu New York Strip Steak
The Ultimate griller's steak! The American Waygu New York Strip from North 40 is an iconic steakhouse favorite known for its rich beef flavor and satisfying firm bite - the top choice cut by many beef enthusiasts!
A simple dash of salt and pepper is all that's needed when preparing our North 40 Strip, this is a mouth-watering experience from a cut that is full of marbling.

Be careful to not overcook this prized steak; melting the marbling will take away flavor and satisfaction. 

This steak is also referred to as Kansas City steak. It's tender, lean and perfect for the grill.
1″ to 1.25"  Thick Cut.
Averages 12-16 ounces.
Individually Packaged.
Grain fed for 500 days.

Hormone Growth Promotant (HGP) Free.

Temperature controlled shipping.

This item ships frozen.

Thawing is normal during shipment.
View full details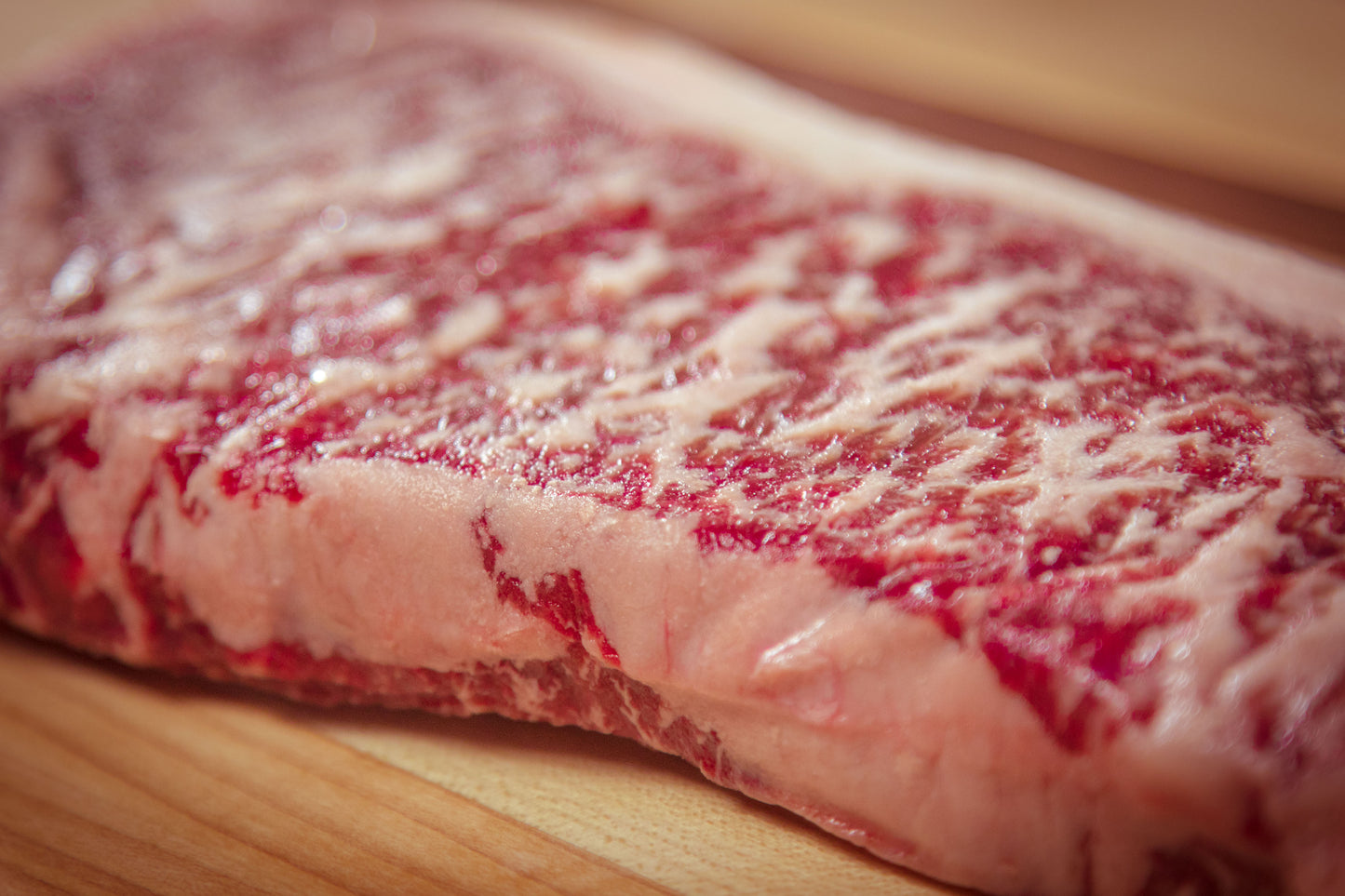 All Natural, 100% Hormone Free, Sustainably Raised.
When it comes to Wagyu beef, it's all about that marbling, partner. Wagyu beef comes from Japan and is known for its high quality and tasty fat. It comes from a specific breed of cattle that's genetically blessed to produce meat with a high degree of marbling. American Wagyu beef, on the other hand, is a cross between Japanese Wagyu cattle and breeds like Angus or Hereford that we have here in the States. It's raised in the U.S. using methods similar to those used in Japan, but with our own American twist. American Wagyu beef typically has a similar level of marbling to Japanese Wagyu, but will have the American flavor profile we know and love.
To cook up a tasty American Wagyu steak, just follow these simple steps. First, preheat your oven to 250 degrees and season that steak with some salt and pepper. Place the steak on a wire rack on a baking sheet, and cook it in the oven for about 30 minutes. You want to cook it until it reaches an internal temperature of 115-120 degrees.

Next, heat up a heavy-duty skillet or grill pan until it's smokin' hot. Put the steak in the skillet and sear it for about 30-60 seconds on each side. You want it to have a nice crust. Once it's seared, remove the steak from the skillet and let it rest for a few minutes before slicing and serving. This method will give you a tender, juicy steak with a crispy, tasty crust. Yeehaw!
Frozen beef will last you about a year as long as it remains frozen. Beef that's been thawed out of its wrapping should be used within a few days. We use nitrogen packaging to keep our goods fresh for up to 30 days. When the freeze-by date rolls around, you best be putting your beef in the freezer. For more information, pay a visit to FoodSafety.gov. It's recommended that you use ground beef within half a year.
Top notch steak and ground beef from a top notch locally owned company! Logan is awesome, give them a try you will not be disappointed!!!
Great
I was gifted a gift certificate for my birthday. Ordered a ton of stuff which I have not made yet other than a couple New York Strips which were fantastic.
Incredible
Ordered as a gift for my son. He said the steaks were incredible! Would def buy again (but for me next time…lol)!
Best Gift
I got this as a gift from my daughter-in-law, she out did herself! Best Steak I've ever had.
I have ordered a bunch of steaks and cuts of beef from this company. I have never had such AMAZING steaks cooked at home EVER! This is restaurant quality beef shipped to your door! So far I have grilled the Filet mignon and NY Strip steak... both just phenomenal... you can LITERALLY cut both cuts of steak with a plastic fork and knife. The marbling in the steaks are just beautiful and add to that amazing flavor and tenderness! All you need is a little salt and pepper.. and that's it. I will only be getting my beef from this company from here on out!