American Wagyu Cowboy Cut Ribeye Steak
Weighing in at more than 34 mouth-watering ounces, this is the largest steak from North 40 Beef.

The American Waygu Bone-in Ribeye Steak, also known as a "Cowboy Cut Ribeye" or "Tomahawk" is sure to wow any crowd. These steaks are full of flavor and provide enough beef to satisfy 2-3 people, weighing more than 2lbs! 

Our Cowboy Steak is tender, full of flavor, juicy, and has superior marbling. If you want to make an impression at your next dinner, this is the steak. Try one of these spectacular Cowboy Cuts while they are still available!
Individually Packaged 
Averages 24 Ounces
Grain fed for 500 days.

Hormone Growth Promotant (HGP) Free.

Temperature controlled shipping.

This item ships frozen.

Thawing is normal during shipment.
View full details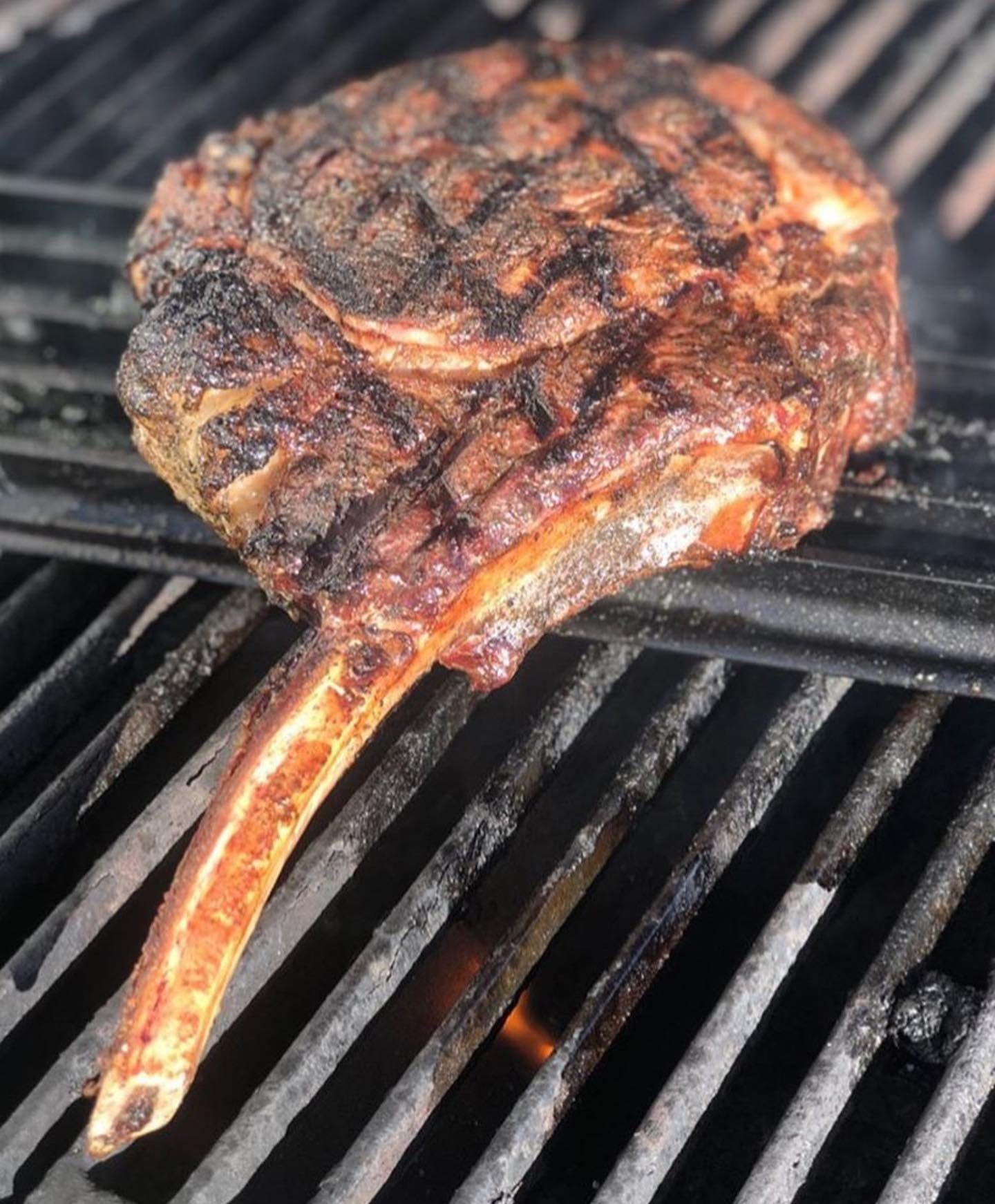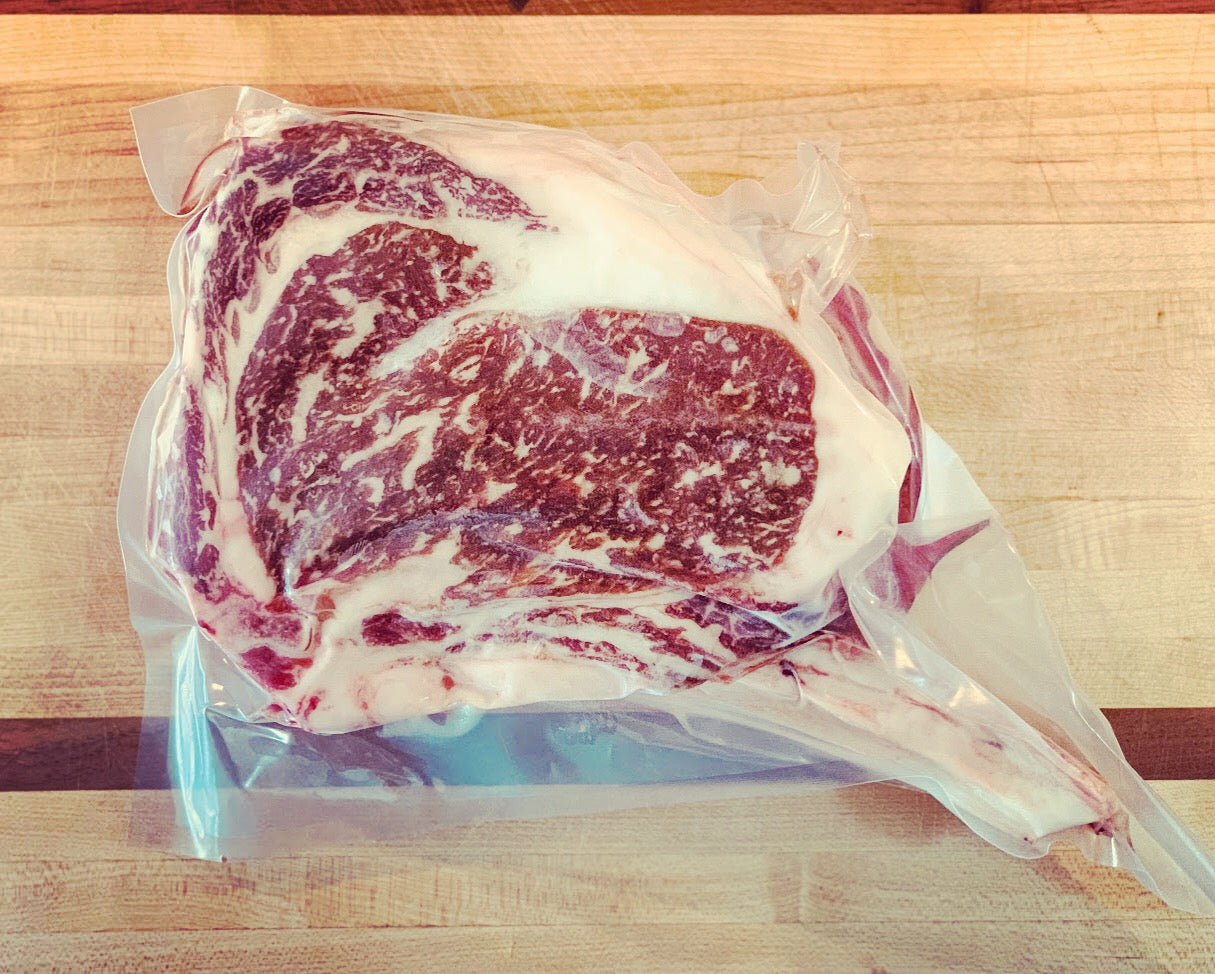 All Natural, 100% Hormone Free, Sustainably Raised.
When it comes to Wagyu beef, it's all about that marbling, partner. Wagyu beef comes from Japan and is known for its high quality and tasty fat. It comes from a specific breed of cattle that's genetically blessed to produce meat with a high degree of marbling. American Wagyu beef, on the other hand, is a cross between Japanese Wagyu cattle and breeds like Angus or Hereford that we have here in the States. It's raised in the U.S. using methods similar to those used in Japan, but with our own American twist. American Wagyu beef typically has a similar level of marbling to Japanese Wagyu, but will have the American flavor profile we know and love.
To cook up a tasty American Wagyu steak, just follow these simple steps. First, preheat your oven to 250 degrees and season that steak with some salt and pepper. Place the steak on a wire rack on a baking sheet, and cook it in the oven for about 30 minutes. You want to cook it until it reaches an internal temperature of 115-120 degrees.

Next, heat up a heavy-duty skillet or grill pan until it's smokin' hot. Put the steak in the skillet and sear it for about 30-60 seconds on each side. You want it to have a nice crust. Once it's seared, remove the steak from the skillet and let it rest for a few minutes before slicing and serving. This method will give you a tender, juicy steak with a crispy, tasty crust. Yeehaw!
Frozen beef will last you about a year as long as it remains frozen. Beef that's been thawed out of its wrapping should be used within a few days. We use nitrogen packaging to keep our goods fresh for up to 30 days. When the freeze-by date rolls around, you best be putting your beef in the freezer. For more information, pay a visit to FoodSafety.gov. It's recommended that you use ground beef within half a year.
Great size and taste
Generous portions and delicious! Great packaging, fast shipping. We always re-order this cut. This is coming from a steak lover.
Great Process
The order process was easy. Steaks were packaged very well and the delivery was fast and on time. The steaks were ordered as a gift and the recipient was thrilled. Will be ordering again!
Big!
These steaks are HUGE! Impressive when you put it on the plate.
Best I've had
Best steaks I ever ate including high end steak houses. Will continue enjoying them.
Loved it!
Ordered a roast for my family Christmas, and we absolutely loved it. We've never had beef this good and Alex and Logan were great with answering my questions. Highly recommend!